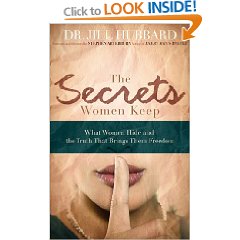 I want to share with you all a conversation I had with Dr. Jill Hubbard, author of The Secrets That Women Keep: What Women Hide and the Truth That Brings Them Freedome.  Dr. Hubbard is a clinical psychologist, specializing in women's issues and the host of a New Life Ministry radio show.  I learned so much by talking to Jill and look forward to reading her book.  Here's what she had to say about her reasons for writing the book and the results of her research.
What prompted you to write a book on the subject of women's secrets?
I just announced on the radio show that we were gonna do a secrets blog, and I wanted women to write in.  And they could write in anonymously. We got flooded.  I think I got over 900 responses of women writing in their secrets.  They were heart wrenching.  Knowing that I would read them and that they would share so much was amazing to me.  I realized there was a felt need out there, which got me started on the project.
Why do women keep these secrets?
Even though intellectually we may know something, emotionally it's a very different story.  Emotionally, sometimes we need to be able to hear it or see it to be able to know that other people can identify with where we're at.  Women are so good at comparing ourselves and seeing where we measure up.  We compare our insides to other people's outsides, and it isn't a fair comparison.  Then we isolate ourselves because we don't measure up.
What types of secrets are women keeping?
There are a large number of women out there who suffer in silence, who may not be in a situation that warrants a big intervention but are extremely unhappy.  Especially women who are married, where it's not leading to divorce, but who are unhappy in their marriages and are Christians who feel trapped.  They don't feel like they can do anythign about it or say anything about it.  Women are relational so we view most things through relationships.  So we're always looking to the relationship for everything.  When we find ourselves in a situation where we're unhappy, we point to the relationship.
Another area was in the area of sexuality and with the differnt sexual struggles, different sexual needs between partners.  The typical stereotype is that the men want it and the women don't.  But there's the reverse of that as well as sexual addiction.  There's hardly anything out there for women, so there is kind of that double shame.  Sometimes it even feels more shameful because nobody expects women to struggle with this.  That was one of the biggest surprises to me.
What are your recommendations for women who are keeping secrets that cause them distress?
I think we all carry around with us kind of these little truths about ourselves that we carry privately.  I think you kind of have to examine if they're weighing you down.  There are some things that we don't share with everybody, but they don't necessarily weigh you down and cause you to feel shame.  What are those pieces of truth that cause you to feel shame?  We limit our ability to be real with people and to be all that we can be, and we limit our perspective in life.  When we just get in our own heads, all we have is our own little voice and nothing to bounce it off of.  We need other women because they give us perspective.  It's important to take risk.  Start to explore where are the places, who are the people that seem safe.  Then you start by taking little risks and share something that maybe isn't quite as personal and test the waters.  Maybe it feels too great, so you go to therapy and start practicing there.  Therapy's a great place ot practice.  Or you go to a support group. Or maybe you have a best friend and you start to take a risk.  My main adivce would be to take a risk somewhere.  We're not meant to live this life alone.  When we're not alone and when we connect with people, it brings joy to life.
I highly recommend getting a copy of Dr. Hubbard's book.  Consider the secrets you may be keeping.  What are the effects of keeping such difficulties to yourself?  What's the worst-case scenario if you shared them with a friend or a professional?  Please talk to someone if a secret you're carrying is causing you pain.